Events
Dwarsberg Trout Hideaway is the perfect venue space to host an event!
The beautiful mountains, riverside and lawn area creates a breathtaking backdrop for festivals, concerts, kitchen teas, baby showers and so much more – situated only 105 km from Cape Town International Airport.
Our indoor venue space can accommodate up to 180 guests (seated) with all the facilities that you need to make the day perfect.
Should you have any other enquiries, feel free to contact our events coordinator: Suzanne - weddingsandevents@trouthaven.co.za

Upcoming Events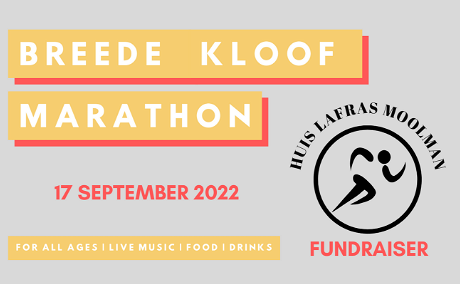 Breedekloof Marathon 2022
Welcome to Huis Lafras Moolman! 
 
Huis Lafras Moolman in Rawsonville is a South African non-profit organisation and a programme of Badisa.
Huis Lafras Moolman makes a valuable contribution to the quality of life of older persons by providing a safe, and affordable residential care and assisted-living accommodation for 120 residents.
Huis Lafras Moolman provide meals, medical support and socialisation activities to the community to enable older persons to live independently.
We strive for excellence in the care and support to frail older persons.
Badisa is a registered Non-Profit Organisation (NPO 011-891).
 
All ages can participate in this event. Come and join the 42km, 12km or 4km. You can win amazing prices and take part in our lucky draw afterwards.
Food stalls, live music and drinks will be available for you to enjoy and celebrate this local event.
The Breedekloof Marathon 2022 will be hosted in order to raise funds for this organisation. Help us help them!
Date: 17 September 2022
Time: 42km – 06:30
          12km – 07:00
            4km – 08:00
Price: 42km – R200.00
          12km – R120.00  
            4km – R20.00
Place: Daschbosch Rawsonville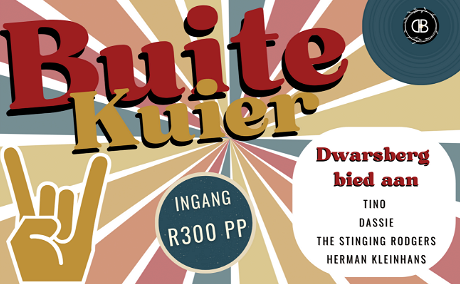 BUITE KUIER 2022
BUITE KUIER 2022 
Kom kuier saam met Dwarsberg die 22ste Oktober 2022!
Herman Kleinhans, TiNO, DASSIE & The Stinging Rodgers tree op op jou voorstoep!
Wat beter het jy om te doen op die Saterdag? Bring jou vriende en familie vir 'n lekker tyd saam met lekker mense, by 'n lekker plek! Kom geniet ons verskeie kosstalletjies asook Bamboo Bar. Verdere inligting sal volg.
Kaartjies @ R300pp
Hekke maak 10:00 oop en sluit om 18:00
Kontak weddingsandevents@trouthaven.co.za vir jou kaartjie! Moet nie die manne mis loop nie!