Events
This is your opportunity to make a difference and move for Invisible Disabilities.
Langerugskool and Dwarsberg Trout Hideaway invite you and your friends and family to a fun day in nature.
Run, walk, eat and enjoy the beautiful mountains surrounding Dwarsberg Trout Hideaway, just outside of Rawsonville.It is our firm belief that every citizen, regardless of ability or disability, has the right to the most independent and meaningful life possible. 
The vision of Langerugskool is to provide education and support to learners with specific learning needs.These learning barriers may manifest as specific developmental delays, specific learning problems, which may or may not be complicated by Autism, Dyslexia, ADD or ADHD, visual or auditory sensory impairments, certain medical conditions, and physical disabilities.
All funds raised with our projects will have a direct impact on education and improving educational facilities for these learners as well as future learners to attend the school.Wonderful Prizes for the first three positions per category! Enter our race to automatically enter our Lucky Draw! Free Goody bags for the first 50 entries!
The goody bags must be collected from Dwarsberg Trout Hideaway on 28 October 2023 before 13:00. 
Book your Tickets NOW!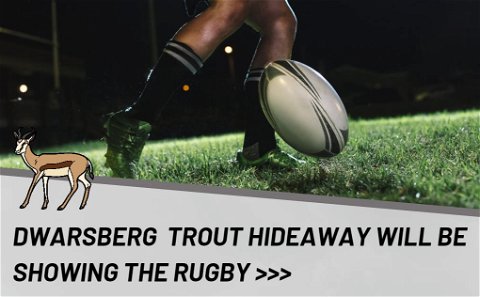 World Cup Rugby
Dwarsberg Trout Hideaway will be showing the following games!!
Friday, September 8th | 21:15 PM                       FRA vs NZL
Saturday, September 23rd | 17:45                       ENG vs CHI
                                       21:00 PM                       RSA vs IRE
Saturday, October 14th | 17:00 &                         Quarter-final 1
                                       21:00 PM                       Quarter-final 1
Friday, October 20th | 21:00 PM                          Semi-final 1
Saturday, October 21st | 21:00 PM                      Semi-final 2
Friday, October 27th | 21:00 PM                          Bronze Final
Saturday, October 28th | 21:00 PM                      Final